The starting point of this exhibition lies in the typically Chinese tradition of stone collecting. Chinese scholars used to pick stones or rocks, preferably those eroded by time or natural elements, in order to decorate their gardens or studios. When combined with water, rocks symbolizing the mountain, become miniature reproductions of nature. The result acts as sources of escape from the everyday life, contributing to aesthetic comfort and spiritual enrichment.
This tradition finds a distant echo in cabinets of curiosities, miniature collections of natural and man-made objects that mirror the world. An erudite and aesthetic practice that started in the Renaissance and marked humanity's step forward to a more scientific classification and apprehension of the world.
Like a scholar's garden or a contemporary cabinet of curiosities, the exhibition explores the link between nature and artifice and questions this east-west convergence: hybrid sculptures made of natural stones and composite materials, performances in natural landscapes to create illusionistic photographic montages or forms created by the hands of nature alongside the artist, chemical experiments in the darkroom of mineral matter itself…
The artists of "ROCKS!" question our perceptions and evoke the mystery of stones. Because, beyond their fixed and frozen form, these stones impregnated with the world's movements are the results of successive sedimentations and the witnesses of abyssal times dating back to millions or billions of years. 
Zhan Wang
Born in Bejing in 1962, where he currently lives and work.
In his 1990 series, Sidewalk, Zhan Wang attempts to break with the sculptural tradition of depicting only religious or heroic figures, choosing anonymous people as subject and resin as his medium rather than the traditional bronze and marble. He covered these life-size sculptures with real clothes before painting them. This series is considered the starting point of the hyper-realist sculpture movement in China.
In 1994, Zhan Wang began experimenting with conceptual sculpture in his series Free and Natural Space, bodiless shapes contained in Mao suits in distorted postures. The same idea of an empty "shell" presides over his most famous series, Artificial Rock. Zhan Wang painstakingly hammers, bends, heats and moulds stainless steel plates onto traditional scholar's stones, then removes the "skin" in sections and welds them together to create a cold, hollow copy of the rock, whose surface reflects the industrialized world.
Artificial Rock is the first contemporary Chinese sculpture collected by the Metropolitan Museum. From the British Museum (London) to LACMA (Los Angeles) and the Mori Art Museum (Tokyo), Zhan Wang has been exhibited internationally. He is represented in France by the Loft Gallery (Paris).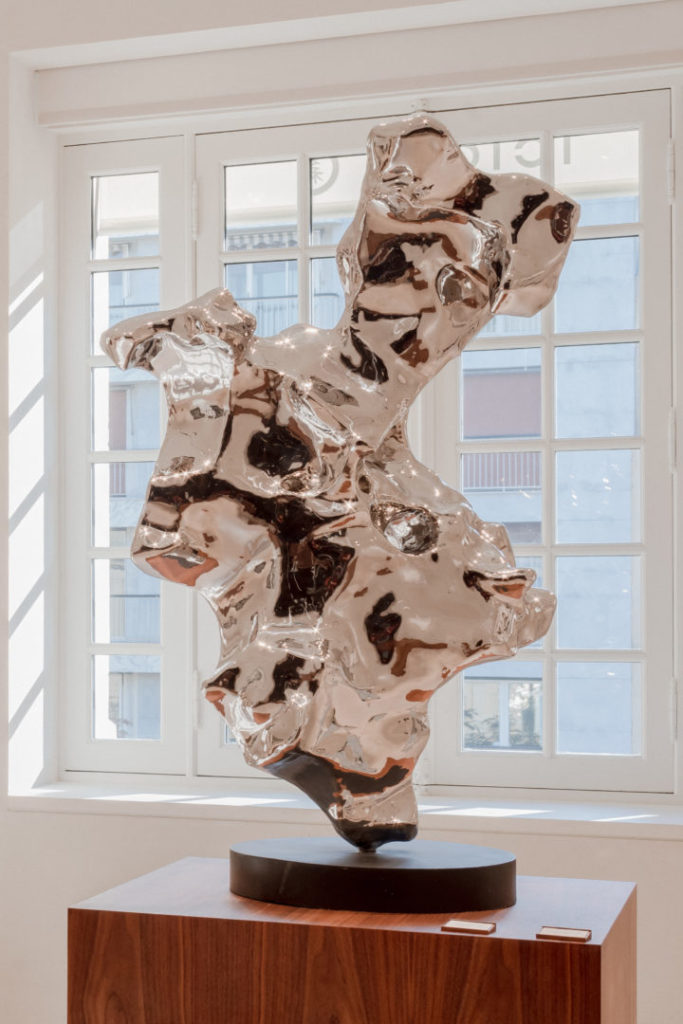 Jonathan Bréchignac
Born in 1985 in Provence, Jonathan Bréchignac lives and works in Paris. He studied graphic design in Marseille and is a graduate of the Graphic Research School ERG (Brussels).
Bioluminescent algae, iridescent beetles, luminous refractions, moving stones, Jonathan Bréchignac's work takes these natural phenomena as starting point. To him, they have retained a power of fascination despite being proven by scientific reasoning. The exploration of material occupies an important place in his work, which follows scientific codes and protocols (collection of samples, experiments and laboratory equipment…).
By recreating "life" with synthetic materials, staged with new technologies, Jonathan Bréchignac creates a poetic network of fascination. He questions the border between artificial and natural as well as the relationship we have with life and time. In his work, the evocation of popular myths, scientific and esoteric theories blurs the boundaries between fiction and reality. He points out the limits of our capacity to comprehend the world, thus revealing the processes from which emerges our beliefs.
In 2021, Jonathan Bréchignac was the winner of the Art of Change 21 prize, sponsored by Ruinart. His work have been exhibited at Chapelle XIV and at the Guido Romero Pierini gallery.
Charlotte Charbonnel
Born in 1980, Charlotte Charbonnel lives and works in Paris. After a three-month stay in India at the Sanskriti Kendra Foundation in 2003, she resumed her studies and graduated from the Beaux-Arts in Tours (2004) as well as from the Arts décoratifs (2008).
Named "Woman to Watch" in 2018 by Washington's National Museum of Women in the Arts, (D.C.), she exhibited her works in various institutions including Le Centre d'art contemporain la Maréchalerie in Versailles, the Verrière Hermès in Brussels, the Réattu Museum in Arles, the Domaine de Chamarande in Essonne, the Palais de Tokyo in Paris, the MAC VAL in Vitry-sur-Seine, or recently at the Abbaye de Maubuisson in St.Ouen l'Aumône and at the Creux de l'Enfer (Hell's Hollow) in Thiers. Her work is present in several public and private collections and has received numerous creative grants. Several catalogs of exhibition have been published as well as a monograph A07-A17 of her work, published by Presses du réel. She is represented by the Backslash gallery (Paris).
'For some years now, Charlotte Charbonnel's aim is to weave the invisible connections between elemental materials of the universe. Her work stems from an empirical research with multiple entries: listening to and capturing material or natural phenomena, exploring different states of matter, and meticulously observing elusive substances'. (Nathalie Desmet)
The artist pushes matter to conceive its own illusion through installations and sculptures. She probes our environment to bring out its natural forces and make us feel its flow. As she listened to the world, she explored and transmitted the acoustic vibration of the places where she was invited to exhibit. Her multidisciplinary practice is linked to space and is nourished by "sciences", collaborations and investigations of different fields and disciplines.
Noémie Goudal
Noémie Goudal was born in 1984 in Paris where she lives and work. She graduated from the Royal College of Arts and from London's. prestigious St. Martins School.
Noémie Goudal examines the potential of an image as a whole using film, photography and installation, she likes to reconstruct its layers and extended possibilities. Oscillating between reality and invention, her images present large- scale installations in natural spaces that renew the very notion of landscape in our contemporary society.
In 2018, she completed a residency at the Richard Neutra House in Los Angeles, and is currently in residence at the Manufacture de Sèvres, in the Île de France.
in 2021, Noémie Goudal's work was showcased in several solo exhibitions: Post Atlantica at the Centre d'Art Le Grand Café (Saint Nazaire), a carte blanche at the Musée Delacroix as part of the PhotoSaintGermain festival (Paris), an exhibition at the Arendt House (Luxembourg), as well as solo presentations at the Frieze London and Barcelona's Loop fairs.
She received numerous awards including the HSBC Prize in 2013 and the RCA Sustain Award in 2010.
Shao Wenhuan
Shao Wenhuan was born in 1971 in Xinjiang (China), he lives and works in Hangzhou. He studied at the National School of Art in Dijon and graduated from the Chinese Academy of Fine Arts in Hangzhou, where he now teaches.
His practice blends photography and painting to create metaphysical artworks inspired by nature.
His work has been exhibited in China (Wuhan Museum, Shanghai Minsheng Art Museum, China Academy of Fine Arts Museum, Three Shadows Photography Art Centre, among others) and abroad: MOPH San Diego, San Francisco Art Institute (USA), Folkwang Museum (Germany), Lucerne Art Museum (Switzerland). His works have been included in prestigious collections such as the Uli Sigg Collection.